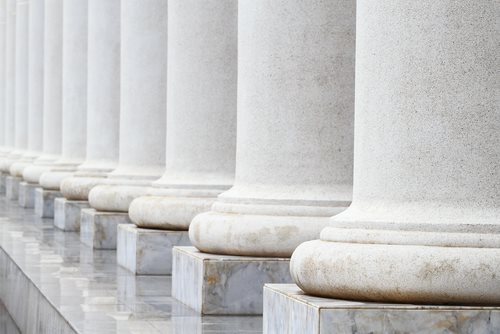 What is Criminal Justice?
Criminal justice is the system of practices directed at upholding social control and preventing or mitigating acts of crime. To pursue a career in criminal justice an individual must obtain adequate training as well as satisfy relevant coursework in a university setting. As a result of the somewhat broad classification, the field of criminal justice possesses numerous job opportunities.
There is great diversity present in the field. However, each subfield is a part of the law enforcement field. All jobs in criminal justice, whether investigating crime scenes or performing surveillance work on a suspect, are tied into the basic principles of the field.
The criminal justice system attempts to maintain their principals and achieve their goals through an institution of laws and penalties for wrongdoings. Those accused of crime, however, are afforded protections against authoritative abuse of prosecution and investigatory powers.
Those involved in upholding the law and investigating crime scenes or instituting penalties require some form of criminal justice degree.
What is a Criminal Justice College?
Criminal justice colleges are academic institutions that provide students with particular resources and coursework. If an individual is interested in becoming a law enforcement officer, investigator, probation officer, criminologist, lab technician associated with forensics, or a probation officer, they should consider applying to Universities which possess strong criminal justice colleges and programs.
Criminal justice colleges will offer students training in the aforementioned fields. This training, which is primarily composed of mandatory coursework and various examinations, is required to pursue a career in criminal justice. Hiring bodies within the field of law enforcement will tend to pursue those applicants who attended criminal justice colleges.
In addition to completing the coursework at a criminal justice college, the individual must also satisfy the particular requirements set out by the hiring enforcement agency. These requirements typically entail the processing of background checks and the completion of various competency tests.
Top 3 Criminal Justice Colleges in the United States:
University of Maryland: The University of Maryland's Department of Criminology and Criminal Justice is ranked number 1 in the country because the school places an emphasis on research, academic investigation and theory. Faculty members at Maryland are experts in their particular fields and are commonly consulted by various Government agencies. This particular Criminal Justice College provides prospective criminal justice majors with both undergraduate and post graduate degrees, as well as specialized degrees in emergency management, information security and homeland security.
The State University of New York Albany (Suny): This particular Criminal Justice College offers advanced teachings revolving around the various agencies in the criminal justice system and how they work with one another to mitigate crime. In addition, the University is known for their undergraduate courses on the economics of crime and how instances of crime affect society.
University of Cincinnati: The University of Cincinnati's Center for Criminal Research is a dominant school within the field of criminal justice. Faculty members are routinely asked for their input regarding domestic and foreign criminal justice agencies.
Comments
comments